Staff Augmentation – Connect With the Right People When You Need Them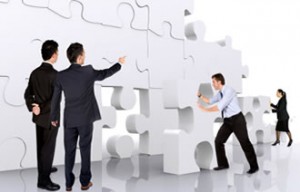 Ever wonder if your business would benefit from a consulting company's staff augmentation services?  Evolution has the reach and the resources to connect you to the very best temporary IT talent. We draw from our proprietary database of over 1 million qualified candidates to help you find temporary professionals that fit seamlessly with your team and your goals. What's more, our Guaranteed Delivery Program removes the risk associated with hiring new talent and gives you the confidence you need to move quickly and achieve measurable results.
Does your organization have an ongoing, long-term function/support activity with fluctuating resource demands?  Or an intensive, short-term project needing supplemental staff to work on-site?  We have the answer.
We offer knowledge and expertise in numerous areas and a full range of outsourced services.  We can help you minimize your staff payroll costs, while having our professionals work closely with your employees to ensure that your needs are met.  By defined project, or via weekly or monthly staffing, Evolution Services can deliver technology-specific experts whose quality, dedication, expertise, and accountability truly set us apart from other providers.
Contact us today for a free consultation.
Share This Post
Leave A Reply